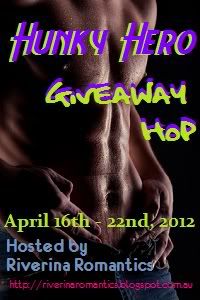 Hunky Hero Giveaway Hop
Hosted by Riverina Romantics
Blog hop runs from 12:01 AM April 16th through to 11:59 PM April 22nd, 2012.
This is our first EVER Giveaway Hop….well hop of any sort to be exact, so we are a bit excited with equal measures of nervousness.
So what is the 'Hunky Hero Giveaway Hop' all about??? I thought it would be great for all of us to do a giveaway of the book with our favourite Hunky hero, not only to share the greatness with our followers, but to give everyone some great book recommendations.
While I do love me some cowboys, there's another passion that I have and that's sexy military men.  There is just something about a man in and out of uniform.  I can't help, it's hot.  Add that defending the country and code of honor and it's just sexy all the way around.
  Anyone need a few good men?
A Bonus!
Contest is open to U.S. Canadian & International Residents
(I'll also send you a copy of the upcoming release on June 19, 2012)